India vs England second Test, Day 1 Highlights: India got going their second Test against England in the continuous five-match series on a positive note by finishing the main day on 276/3 in their first innings at Lord's, London. The primary Test was drawn.
Subsequent to being conveyed to bat first, India openers Rohit Sharma (83) and KL Rahul (127*) sewed a 126-run association. James Anderson (2/52) scalped two wickets in the center to fix the guests back somewhat however a 117-run third-wicket association among Rahul and captain Virat Kohli (43) changed the fortunes in the last meeting. Ollie Robinson (1/47) excused Kohli towards the day's end. Prior, the beginning of play was postponed by 15 minutes as a result of some morning precipitation.
Britain (Playing XI): Rory Burns, Dominic Sibley, Haseeb Hameed, Joe Root(c), Jonny Bairstow, Jos Buttler(w), Moeen Ali, Sam Curran, Ollie Robinson, Mark Wood, James Anderson
India (Playing XI): Rohit Sharma, KL Rahul, Cheteshwar Pujara, Virat Kohli(c), Ajinkya Rahane, Rishabh Pant(w), Ravindra Jadeja, Mohammed Shami, Ishant Sharma, Jasprit Bumrah, Mohammed Siraj
India vs England 2nd Test, Day 1 Highlights:
Stumps!
KL Rahul (127*) remains unbeaten from start to finish on the first day of the second Test as India end the day on 276/3 after 90 overs. India vice-captain Ajinkya Rahane (1*) will resume alongside the centurion at Lord's tomorrow.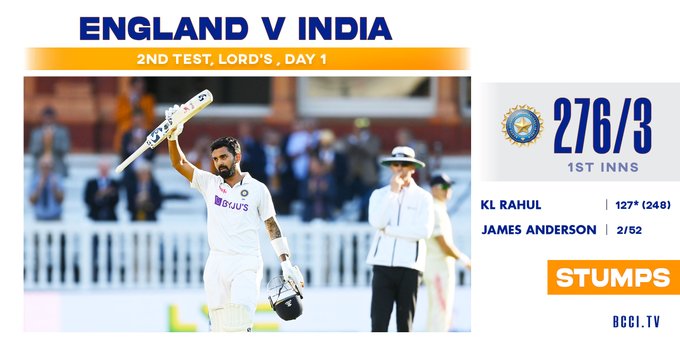 WICKET! India vs England
And that's the end of his knock! Kohli is sent back to the pavilion on 42 by Robinson. The India skipper's edge is carried to the slips where it's taken by Root comfortably. A late, late boost for England on Day 1. IND: 267/3 (84.4 overs)
Rahul hits sixth Test century!
A boundary against Wood and he brings it up! Rahul reaches his sixth Test ton in 212 balls, hitting nine boundaries and a six. After Vinoo Mankad and Ravi Shastri, he becomes the third Indian opener to hit a century at Lord's. This is also Rahul's fourth Test century outside Asia, only second in the list behind the great Sunil Gavaskar
Rahul, Kohli still on top India vs England
The visiting pair are taking it a bit slow now with Rahul on 91* and Kohli on 28*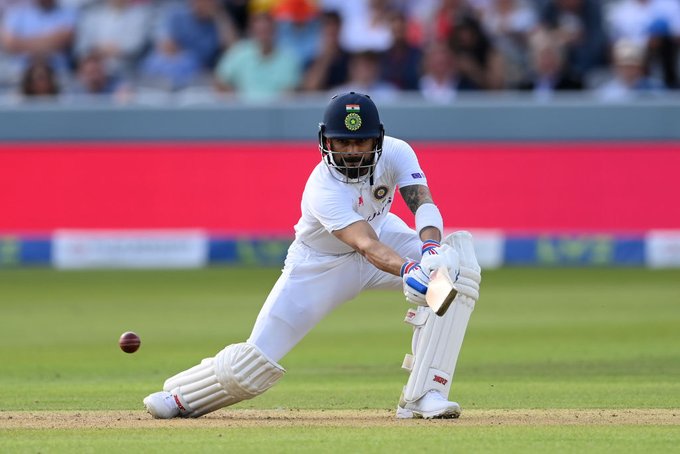 India cross 200-run mark!
India are on a roll right now as they cross the 200-run mark! Rahul (83*) and Kohli * complete their half-century stand together, keeping the danger of Wood and Curran at bay. Still 25 overs left till stumps
Rahul races towards his sixth Test ton
Be it Robinson or Anderson or Curran, Rahul (75*) is in the mood to score runs and quickly! He hits three fours in three straight overs but hits a roadblock in the form of Wood. Just two runs off the pacer's over.
Kohli opens his account
After a maiden opening over of the final session, Rahul (59*) gets it going again with a well-timed boundary against Anderson. Kohli (3*) finally opens his account in the following over with a two and a single.
Back with the final session
Potentially a 2 hour and 45-minute final session if the light allows. Virat Kohli and KL Rahul in the middle for India. Ollie Robinson begins for England.
Day 1: Tea Break
IND- 157/2 in the first innings with the fifties from Rahul and Rohit. Anderson has been at its best with 2 wickets in this session. A possible Kohli vs Anderson battle in the final session? Stay tuned.
Anderson gets his 2nd wicket
Pujara departs for 9 as Bairstow takes the catch in the slips. That's the ninth time James Anderson has dismissed Cheteshwar Pujara in Test cricket. The only batsman he has dismissed more is Peter Siddle with 11 dismissals. IND- 150/2
BOWLED! Rohit Sharma is gone
James Anderson, with a crucial breakthrough and Rohit is gone for 83! Anderson kept pegging away and brought one back into the stumps which finds a way through Rohit's defence. It is such a shame he couldn't get 17 more, but what a job he has done for his side. IND- 126-1
Kl Rahul joins the party
SIX!!! KL Rahul charges down the ground and dispatches Moeen Ali over long-off for a maximum.  First Boundary for Rahul after spending almost 3 hours on crease ! 108th delivery and it's a SIX 
100-run stand for India
This is only India's second 100 opening stand in England in 41 years. India in a strong position on Day 1. IND- 105/0
Over the ropes! What a shot !!!
SIXXXXX! Rohit Sharma takes on the short ball from Mark Wood and its sails over fine leg for a maximum. Slow pitch at Lord's and England have drifted too straight and into the legside. Made batting easier for Rohit
Half-century for the Hitman!
Rohit Sharma brings up his 50 from 83 balls, a top-class innings by a top-class player, batting brilliantly in the difficult conditions this morning. IND- 71/0 
 FOUR! From Rohit
There's the test of the bouncer, but it's not too high and the line is very well down leg too. Rohit swivels, doesn't control the shot but manages to send it fine past Buttler to the fine leg fence
Match Summary :
James Anderson's relationship with the now well known wobble ball that extracted out Virat Kohli and Cheteshwar Pujara in the main Test started in 2006. Anderson was intrigued with how the Australian Stuart Clark managed it. The memory raised up again in 2010 when he saw the ball weaponised by that extraordinary Pakistani sorcerer Mohammad Asif.
The appearance of shock all over when the ball gleamed temperamentally towards him prior to lighting the external edge said a lot. At the point when it left Anderson's fingers, the crease was shifted towards the main slip. At the point when it arrived on a decent length, it was shifted towards fine leg. Was it will shape away, slant in, or fall directly at him?
"It's an outright accident (where the crease lands)," James Anderson revealed to Sky Sports. "I need the crease to wobble somewhat so it may nip whichever way off the crease. I kept the sparkly side on the left, attempting to point it in. In case there is any swing, it will float in and might crease whichever way once it pitches."
Thank You